Green Flowers for St. Patrick's Day
February 17, 2019
St. Patrick's Day is one of those festivities that we barely knew about for a lots of years and then suddenly it is beginning to become unavoidable in our calendar. It can be said that, without resembling, it is the other Halloween (exported or imported) to the whole world. Year after year, the green color stars in endless recreational activities that place on the map a small country with roots and descendants spread over the five continents.
[wpseo_address id="0″ hide_name="false" hide_address="false" oneline="false" show_state="true" show_country="false" show_phone="true" show_phone_2="true" show_fax="true" show_email="true" show_url="false" show_vat="false" show_tax="false" show_coc="false" show_price_range="false" show_logo="false" show_opening_hours="false" hide_closed="false" ]
Although the most traditional plant during this celebration is the Clover – symbol of Ireland and Saint Patrick, there are also many other varieties that can decorate your home on this date and become a beautiful gift.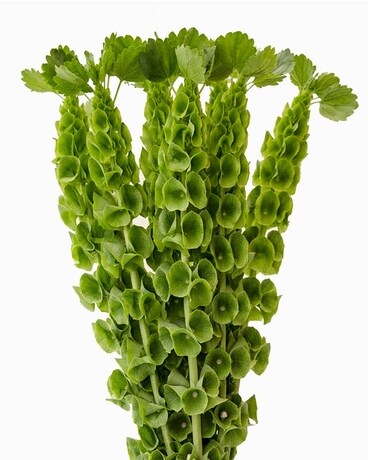 Bells of Ireland (Moluccella laevis) – these green flowers are ideal to combine with other floral plants: in a bridal bouquets or flower arrangements. It is undoubtedly a plant that with little care will look beautiful. In addition, when it dries – you can continue enjoying its beauty, as part of a lovely decoration, to give that unique touch.
Green button pompon chrysanthemum (Chrysanthemum morifolium 'Kermit') – A fresh and fun spray flower, with an average of 4-7 blooms on each stem, this button pom would make a great filler flower, perfect for any bouquet, centerpiece or arrangement. 
Green hydrangeas (Hydrangea macrophylla) – The hydrangea is a plant that does not withstand the strong summer sun but is very resistant to the cold of winter. Their dimensions and delicate colors turn them into elements of high ornamental value. They do not present many problems when it comes to taking care of them, but they are extremely demanding with watering, since they need a lot of humidity. Sometimes it is not enough to water them, but you have to put the pot directly into a bucket of water and let the plant absorb little by little all that it needs.
One of most favorite ways to wear green on St. Patrick's Day is with Green Roses. They're the perfect accessories to protect you from pinches.They are also signs of cheerfulness, making them perfect for this holiday celebration. There are three options for this flower:
Natural green varietes (Green Tea, Lemonade, Wasabi, Limbo, Pistache, Super Green, etc) – its vaselife is like any other rose, up to two weeks.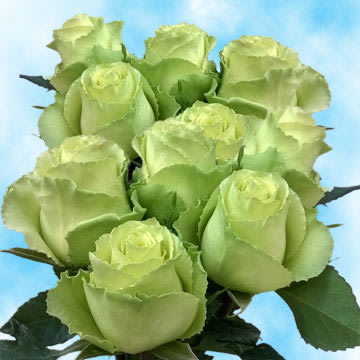 Tinted or dyed roses – they last much less in the vase – 7-8 days as maximum.
Preserved roses – this one will last for years, though they look a bit artificial, because of all process they came through.